MERCI (Management and Evaluation of River Catch and Effort Information) is a data management and catch estimation system for aerial-access and aerial-roving creel surveys.
This system provides data warehousing and weekly catch statistics for roving and access site creel surveys. MERCI has been used successfully since 1998 by Fisheries and Oceans Canada to assist with in-river catch monitoring and is now an integral part of DFO's management of First Nations chinook and sockeye salmon fisheries on the Fraser River.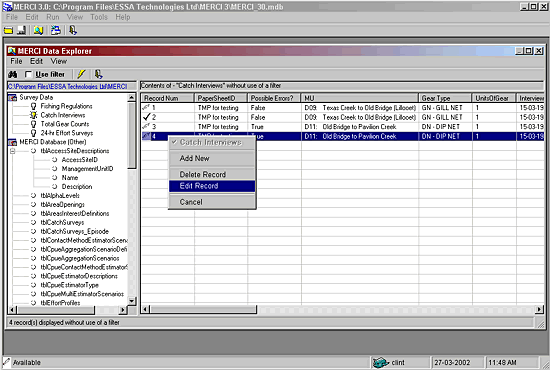 It can be adapted for use in any access or roving survey design which provides:
catch interviews
total instantaneous counts of gear for the study area and
24-hour effort profiles (i.e., proportions of gear fishing at different hours of day)
MERCI Precision Estimation Tool (PET) is a stand-alone software package designed to estimate precision of bootstrap simulation data generated by the MERCI software. The outputs generated by MERCI PET include estimates for catch, CPUE, and effort with the corresponding estimates of precision: standard error and (bias-corrected) confidence intervals.